Classroom Calendar Connections - July 2020
Jill Rockwell
Jun 29 2020
Categories
Happy 244th Birthday, America! Provided below are several resources and activities that can be shared with students throughout the month to celebrate our nation and to learn more about the significance of the Fourth of July.
Independence, Illinois; Independence, Wisconsin; Point Independence, Massachusetts; West Independence, Ohio…In the United States, there are at least 30 cities and towns that include the word "Independence" in their names. (I'm guessing they have some of the best Fourth of July celebrations in the country.) But there's also Freedom, Pennsylvania; Lincoln, Nebraska, along with 11 other cities with patriotic names you can read about in this article.

For our youngest learners, Sesame Street is always a big hit. This short video (starring Grover) provides a very brief overview of the challenges associated with drafting the Declaration of Independence with a focus on rhyming.
Why do we celebrate the Fourth of July? Why was the Declaration of Independence written? What is the Constitution and the Bill of Rights? This engaging video answers these questions and provides additional interesting facts in kid-friendly language.
For every action, there is an equal and opposite reaction.
-Newton's Third Law of Motion
Fireworks and Independence Day go hand-in-hand. Quantum physics, Newton's Third Law of Motion, and other seemingly complicated topics are brilliantly explained in this fascinating Khan Academy video featuring the science and history of fireworks. (And, when it comes to fireworks, remember – safety first!)
Have students in upper grades listen carefully to the popular and catchy song, "Firework" by Katy Perry to identify, label, and explain the types of figurative language and poetic devices used in the song lyrics. Examples might include metaphors, similes, personification, hyperbole, alliteration, assonance, consonance, onomatopoeia, and rhyme. Download this chart for students to record and organize their work.
Add a little sparkle to your students' math work with these Independence Day-themed math worksheets for grades 1-5. For older students, challenge them to use their graphing calculators to make a spectacular fireworks display.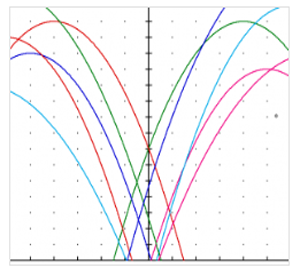 Image Credit: https://www.yummymath.com/2017/fireworks-on-your-calculator/
This patriotic-themed paper is perfect for writing letters of appreciation and support to military personnel. A Million Thanks collects and distributes millions of letters to active, reserve, and veteran military. And, encourage students at all grade levels to reflect on the holiday with these journal-writing prompts. Examples include:
My family's Fourth of July traditions…
I am thankful to live in America because…
If I could visit any historical American site, it would be…
In 20 years, I think America will be…
What would the Founding Fathers think of America today?
Please share your own suggestions for celebrating and learning with students. Have a safe, healthy, and enjoyable Fourth of July, Educators!
Sources
http://usflagstore.blogspot.com/2011/07/q-do-you-know-how-many-us-cities-and.html
---
Here are a few classes related to this topic:
---
Jill Rockwell
Jill has over 13 years of experience as a licensed teacher in the areas of Special Education, Reading Education, and Health Education. She embraces diversity and has worked with students in grades K-12 in Wisconsin, Minnesota, and California. Jill completed her Master of Science degree at the University of Wisconsin-River Falls while teaching full time. She fully understands the soaring demands of today's teachers. Her courses are designed to maximize the time of all educators by providing engaging, meaningful, and applicable activities which can be used to enhance teaching practices. She focuses on research-based best practices and technology integration throughout her own instructional practices. Together with her husband and two young boys, Jill enjoys traveling, biking and the changing seasons of the great outdoors in Wisconsin. 
---
Share your thoughts