Classroom Calendar Connections – June 2020
Jill Rockwell
Jun 01 2020
Categories
The Summer Solstice
Welcome to summer! Although there have been many disappointing cancellations in 2020, one thing is for certain - the solstice will still be held on Saturday, June 20 for everyone here on Earth. In the Northern Hemisphere, we will celebrate the start of summer-and the longest day of the year-as the North Pole is tilted closest to the sun. (The opposite occurs in the Southern Hemisphere where folks will be getting bundled up for winter.) This short PBS video provides an insightful demonstration of the location of Earth, relative to the sun, during the summer and winter solstice and the fall and spring equinox. 
Continue reading for ways to focus your and your students' attention and learning toward the sun this month. (Don't forget your sunscreen and sunglasses!)
Last, but not least, take time to mindfully witness the beauty and power of a sunset (and/or a sunrise) this summer – it's good for your mental and emotional well-being. Use the Old Farmer's Almanac sun calculator to find out when the sun will rise and when the sun will set on any given day anywhere in the U.S. and Canada.

Happy Summer Solstice to you and your students!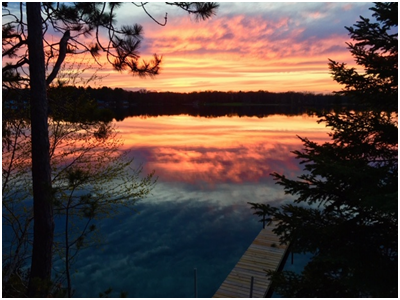 My husband took this photo last week at our cabin in Northern Wisconsin.
(Believe it or not, the sunset was even more stunning in person.)
---
Here are a few classes related to this topic:

Working with Challenging Parents: How to Connect and Create a Team Approach
---
Jill Rockwell
Jill has over 13 years of experience as a licensed teacher in the areas of Special Education, Reading Education, and Health Education. She embraces diversity and has worked with students in grades K-12 in Wisconsin, Minnesota, and California. Jill completed her Master of Science degree at the University of Wisconsin-River Falls while teaching full time. She fully understands the soaring demands of today's teachers. Her courses are designed to maximize the time of all educators by providing engaging, meaningful, and applicable activities which can be used to enhance teaching practices. She focuses on research-based best practices and technology integration throughout her own instructional practices. Together with her husband and two young boys, Jill enjoys traveling, biking and the changing seasons of the great outdoors in Wisconsin. 
---
Share your thoughts