Classroom Calendar Connections: November 2019 - Veteran's Day and Thanksgiving
Jill Rockwell
Oct 28 2019
Categories
"In November, some birds move away, and some birds stay.
The air is full of good-byes and well-wishes." – Cynthia Rylant
Happy November, Educators! I have a well-worn/loved copy of In November by Cynthia Rylant sitting on my bookshelf ready for its favorite month. If you don't have your own copy, you and your students can listen and watch a read-aloud of this cozy story here.  
In November, veterans are honored, and thanks is given... (My words aren't nearly as eloquent as Rylant's - nevertheless I've been inspired.) Below you will find links to valuable resources and ideas to commemorate Veteran's Day and Thanksgiving in the classroom with your students. 
Monday, November 11 - Veteran's Day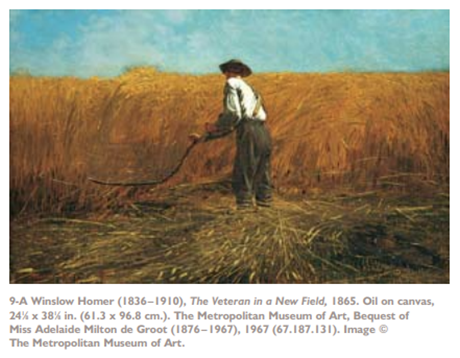 The Veteran in a New Field, 1865 by Winslow Homer is an oil painting that depicts a Civil War veteran returning to the wheat field on his farm. This lesson provides activities and guiding questions related to this meaningful painting for students at all grade levels.
From 1775 when women served as nurses on the battlefields of the American Revolution to 2008 when the first woman was promoted by the U.S. Army to the rank of a four-star general, learn about the important role women have played in the military throughout history with this timeline provided by The Women's Memorial. 
Give students the opportunity to honor veterans and active military service members by writing letters to say, "thank you." Operation Gratitude provides guidance on how to get involved with their heartfelt mission. 
Thursday, November 28 – Thanksgiving
Young mathematicians will love exploring Thanksgiving through a statistical lens. In 2016, 243 million turkeys were raised in the United States. 'Cranberry' is the name of seven U.S. cities and townships. Over three billion pounds of sweet potatoes were produced in the U.S. in 2015. Find out more Thanksgiving Census Facts here.
Take a tour of a replica of the Mayflower, discover what life was like for the Pilgrims and the Wampanaog Nation, and travel back in time to learn about the first Thanksgiving with these free online videos, provided by Scholastic, for all grade levels.
This comprehensive lesson plan, designed by The Smithsonian National Museum of the American Indian, for grades 4-8, gives students the opportunity to learn about Thanksgiving from the perspectives of American Indians.
Additional Thanksgiving Articles to Consider

Enjoy this lovely autumn month, Educators! What's happening in your classroom In November?
---
Here are a few classes related to this topic:
---
Jill Rockwell
Jill has over 13 years of experience as a licensed teacher in the areas of Special Education, Reading Education, and Health Education. She embraces diversity and has worked with students in grades K-12 in Wisconsin, Minnesota, and California. Jill completed her Master of Science degree at the University of Wisconsin-River Falls while teaching full time. She fully understands the soaring demands of today's teachers. Her courses are designed to maximize the time of all educators by providing engaging, meaningful, and applicable activities which can be used to enhance teaching practices. She focuses on research-based best practices and technology integration throughout her own instructional practices. Together with her husband and two young boys, Jill enjoys traveling, biking and the changing seasons of the great outdoors in Wisconsin. 
---
Share your thoughts