Featured Teacher Lynn Nguyen
Ike Martinson
Feb 24 2021
Categories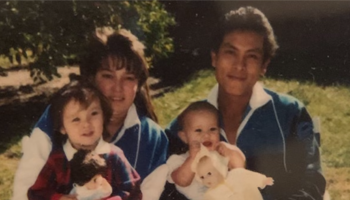 Lynn (Henny) with Jade, Chau with Emerald
Lynn Nguyen is my aunt. Well, she's my wife's aunt. Ok well she's not her hereditary aunt, but she fell in love with my wife and her two sisters when they were all babies and neighbors and she's been an incredible auntie since then. When the girls met Lynn they were pretty young, and they couldn't pronounce Lynn (who knows why some kids have more or less trouble with seemingly simple phonetics) so they did and still do call her Henny. I was introduced to her as Aunt Henny ten years ago.
Lynn was born to care about other people. I think she's kind of addicted to it. She wants to help everyone better understand themselves and find their potential to become happy, smiling humans, including my wife and me. She teaches SPED for the K-3 cohort at Yulupa Elementary in Santa Rosa, CA. Yulupa (K-3) and Strawberry (4-6) comprise the entire Bennett Valley Union School District and house over 1,000 students. There are seven of each grade, each having 20 students. So Lynn and her three colleagues share special education efforts for everyone in grades K-3, a pretty big group.
Some of her students are behind in only a few topics and come to her room just periodically to catch up with their grade level. Others spend the whole day there. I asked her what she loves about teaching special education and she said, enthusiastically, "all of it - every day, except the paperwork." She loves the growth, she loves the connections, she's motivated for every step of progress, she has patience for the difficult students and the harder days which make the good ones that much sweeter. She only grimaces at the paperwork. But she does it without much complaining because the reward is so great. I think Aunt Henny is just addicted to helping people.
Like a mouse on a cheese cube I asked about the paperwork and found myself completely confused. I tried to keep it straight in my notes but it's still Greek at this point. What I got from it was that there are many stages between the general classroom and full-time in Lynn's classroom. At each stage there is assessment, analysis, meetings, discussion, consensus, planning, and submission of many pieces of paper. SST, IEP, RSP - sheesh I couldn't keep up. And perpetually for the duration of attendance to the special education room those processes persist. It sounds like much of that is to do with allocation of state funding, and additional measures involving parents and psychologists. I guess it's the business side of special education that enables Lynn to pour her heart into the interactive side teaching her beloved kiddos.
We talked about the complexities of the whole process and whether it was effective or distractive. It's both, and it's imperfect, just like humans. I have an 8-week old daughter, our first, and I'm definitely beginning to understand there is no manual for perfection. It's a beautiful, difficult, rewarding, heart-breaking, exciting and overwhelming process. I can't believe Lynn has maintained the strength and drive to do it with hundreds of kids for almost thirty years. But she's clearly addicted to it. 
She told me she couldn't do it without her teaching partners and her superintendent, Dr. Sue Fields, who is retiring this year. Lynn is pretty conscientious about the change at the top but has faith that leadership will continue to be supportive of her and her students.
I asked about differentiation. When you have 50 kids from any of four grades at varying levels in all their subjects you must really have to work to keep all their instruction and assessment straight. Yes - immediately answered. However, with the state standards on hold the goals can be simpler. A big focus for the 1st/2nd graders is learning to write a proper paragraph. They take a topic and write down all the ideas related to that. Then they circle three and work to generate a paragraph with an introduction, the three ideas and a conclusion. I should probably take that lesson again because if you've read my articles you'll notice I write like a log flume ride flows.
My mom says everyone is addicted to something - she can't give up chocolate. Like a whole box or bag if she opens it, which she tries rarely to do. Mine is just food in general, as long as it's hoity toity. Lynn's addiction is working with her students to help them find a path to fulfillment and progress. And she's so into it that it extends to anyone she comes into contact with. What a great way to channel your energy and passions. She gives so awesomely of herself. I'm thrilled to have her as my aunt and I'm certain her students and their parents feel the same way.
---
Ike Martinson
Ike is addicted to life in the Pacific Northwest. He enjoys the mountains, the lakes, the food, the people and all the seasons. He is an amateur chef, a commercial pilot and a terrible painter.
---
Share your thoughts