Halloween in the Classroom
Jill Rockwell
Oct 02 2023
Halloween is almost upon us again! Did you know that it's the United States' second largest commercial holiday after Christmas? From the ancient origins to black cats and ghosts, the History Channel provides more fascinating facts about Halloween here.
My own kids (1st and 3rd grades) are looking forward to dressing up for their school's annual Halloween parade for families to enjoy. The parade is scheduled for the end of the school day in hopes of "business as usual" for most of the day. Students (and teachers) often still enjoy some Halloween-themed learning activities sprinkled throughout the day, so we've compiled a list of some of our favorite ideas.
For a low-key Halloween celebration, give students across grade levels the opportunity to be creative with these writing prompts and more by Teach Hub.
If you could design a haunted house, what would you name it? What types of rooms would you have? Describe, in detail, three of the best rooms in your haunted house.
Write a spooky story to tell around the campfire. Remember, you want to build suspense using onomatopoeia and alliteration. Don't forget to have a big finale to frighten everyone who is listening.
What was the best Halloween you ever had? What made it great? What would make this Halloween even better than that?
A Halloween escape room, mad scientist experiments, dark poetry, a zombie apocalypse project…For older students, check out this list of 45 fun and creative Halloween activities.
From a Halloween math mystery to the history of Halloween, We are Teachers compiled this list of "35 Spooky and Educational Halloween Videos" for kids.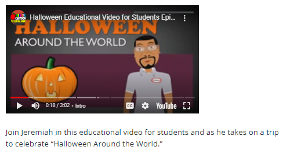 Take a virtual field trip to the San Diego Zoo to learn about creepy, crawly spiders. Then put your students' STEM skills into action by creating a spider that moves (templates and instructions included)!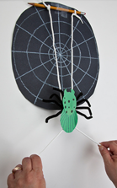 From the heartwarming story, Room on a Broom by Julie Donaldson (my favorite) to the classic, It's the Great Pumpkin, Charlie Brown by Charles M. Schultz, this link includes a list of "10 Not-So-Spooky Teacher Approved Halloween Books for Kids."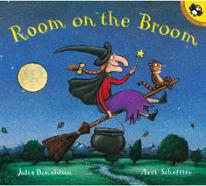 Whatever you do to celebrate Halloween this year, we hope you and your students enjoy the holiday!
---
Jill Rockwell
Jill has over 13 years of experience as a licensed teacher in the areas of Special Education, Reading Education, and Health Education. She embraces diversity and has worked with students in grades K-12 in Wisconsin, Minnesota, and California. Jill completed her Master of Science degree at the University of Wisconsin-River Falls while teaching full time. She fully understands the soaring demands of today's teachers. Her courses are designed to maximize the time of all educators by providing engaging, meaningful, and applicable activities which can be used to enhance teaching practices. She focuses on research-based best practices and technology integration throughout her own instructional practices. Together with her husband and two young boys, Jill enjoys traveling, biking and the changing seasons of the great outdoors in Wisconsin. 
---
Share your thoughts