Insights of Dr. Temple Grandin
Jill Rockwell
Nov 21 2019
Categories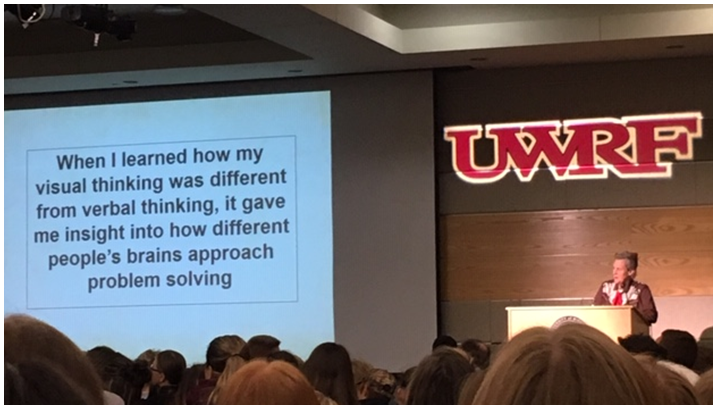 Last month I had the privilege of attending Dr. Temple Grandin's sold out presentation at the University of Wisconsin-River Falls. Dr. Grandin was diagnosed with autism as a young child and throughout her life has powerfully touched many parts of society including special education and animal welfare. In 2010, her exceptional life inspired the making of an Emmy-award winning HBO movie (starring Claire Danes).

That night's audience consisted of a mix of college students (including education majors, animal science majors, and others), parents of children with autism, educators, and farming/agriculture professionals. Everyone went silent as she took the stage. 
To give us a glimpse inside her fascinating mind (literally), Dr. Grandin proudly shared an image of her brain scan, which highlighted her strong visual memory. "If I can visualize it, I can design it." She described how she sees everything in pictures – she compared her mind to a Google images search engine. She pointed to another part of her brain scan, "Here you can see my trashed working memory." She explained that she needs a pilot's checklist (step-by-step instructions) to complete tasks involving multiple steps.
"When I learned how my visual thinking was different from verbal thinking, it gave me insight into how different people's brains approach problem-solving." Dr. Grandin pointed out that Steve Jobs was also a visual and logical thinker (and an artist), "That's why your phone is so easy to use – it was designed by a visual thinker."
Dr. Grandin expressed concern about the future of today's children and teens and the growing addiction of video games. She candidly stated, "Kids are playing video games in their basements when they should be doing something!" Temple mentioned that some teens can't even connect a garden hose – even worse, some don't even know what a garden hose is! She passionately explained the benefits of kids experimenting with tools and creating hands-on projects. "People need to touch in order to perceive." Her grandfather was a co-inventor of the auto pilot, "Tinkering was required to make it work."
Stressing the need for schools to keep classes that foster creativity and problem-solving such as art, woodworking, theater, and auto shop, Dr. Grandin stated "We need students who can work in the practical world – plumbers, electricians, and mechanics. Even when projects are now being outsourced, things always need fixing." She also stressed the need for coders in the technology world and recommended the book Coders: The Making of a New Tribe and the Remaking of the World by Clive Thompson.
During her talk Dr. Grandin discussed some "common denominators for future success" of students including:
They grow up with lots of books to read.
They have early exposure to career interests.
They are given opportunities for hands-on learning experiences.
They work hard at an early age (household chores and jobs working for people other than family members such as walking neighbors' dogs, paper routes, and babysitting).
They have access to mentors to help with possible future careers.
They participate in internships (to "test drive careers").
They learn how to do "real things" (such as drive a car, have a bank account, shop independently, and manage their time).
During the question/answer portion of the presentation, a young woman introduced herself as a college student with autism studying animal science with the aspiration of becoming a veterinarian. She asked Dr. Grandin for advice on reaching her future career goal. Dr. Grandin simply responded with, "Think more about the veterinarian, not the autism. Animals first, autism second."
Referring to the brilliant innovation and technology that has been created in Silicon Valley, Dr. Grandin stated, "Geeks, misfits, and kids with labels built the stuff." (She boldly estimated that "half the people working in Silicon Valley probably have autism.")
She urged us to, "Look at what people CAN do!" and provided these "tips for working with minds that are different:
Never overload the working memory
Provide a pilot's checklist for tasks with multiple steps
Stretch them slightly out of their comfort zones
Limit screen time
Provide choices of hands-on activities
Dr. Grandin expressed passion about young people becoming active and productive members of society - regardless of labels. She explained how she feels good when she figures something out or helps someone else figure something out – for example helping a parent understand why their child with autism is behaving in a certain way. Dr. Grandin believes a top priority for education is to foster lifelong learning among all students – starting at an early age. She went on to suggest some tips specifically for teaching our youngest learners including: 
Slow down when you talk.
Encourage use of words.
Give them more time to respond.
Use teachable moments.
Give instruction instead of saying no.
Dr. Grandin spoke for about 30 minutes longer than scheduled, but I could've listened to her speak all evening. That morning I had just finished reading her latest book, Calling All Minds: How to Think and Create Like an Inventor. I waited in the long line for her to sign my book, which I had her dedicate to my two young sons - Abe and Owen. The book includes 25 inspiring projects for kids. I thanked Dr. Grandin for all her insights with a promise to give my boys lots of hands-on opportunities to tinker, create, and explore. 
From the special education professionals to the animal science students, I think Dr. Grandin left a lasting impression on everyone in the audience.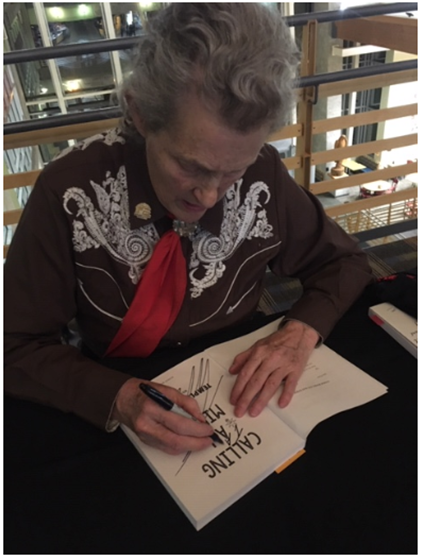 Side Note: Since that evening I also read her book, Animals Make Us Human: Creating the Best Life for Animals. The decades of research and experience Dr. Grandin shared in her book helped to give me a look inside the mind of the new puppy that my family and I just adopted from the Humane Society (along with the minds of the two cats who were already part of our family).
---
Here are a few classes related to this topic:
---
Jill Rockwell
Jill has over 13 years of experience as a licensed teacher in the areas of Special Education, Reading Education, and Health Education. She embraces diversity and has worked with students in grades K-12 in Wisconsin, Minnesota, and California. Jill completed her Master of Science degree at the University of Wisconsin-River Falls while teaching full time. She fully understands the soaring demands of today's teachers. Her courses are designed to maximize the time of all educators by providing engaging, meaningful, and applicable activities which can be used to enhance teaching practices. She focuses on research-based best practices and technology integration throughout her own instructional practices. Together with her husband and two young boys, Jill enjoys traveling, biking and the changing seasons of the great outdoors in Wisconsin. 
---
Share your thoughts