Ode to Conservatories
Ike Martinson
Jul 11 2021
Categories
It may be observed that I tend to talk and write about plants often. I don't strike up random conversations at parties or steer to the subject during a picnic or anything. I guess I think that there are so many things on this planet that don't speak words which can teach us endless life lessons, and I really like plants. I like how efficiently they work, how they are symbiotic to breathing beings, how they are always growing but imperceptibly so, how rewarding it can be to understand one or ten in a group, how they are a model for harmony and balance, how they cooperate, how they waste almost nothing, and just about thirty other things. They do all this without boasting or complaining. I think working with and understanding plants, "speaking" to them, can teach us to live in the world more correctly.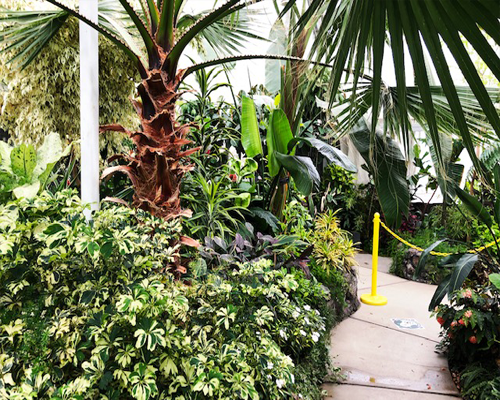 You can open a book and read about plants, or you can invite them into your garden and work with them, or you can go somewhere to visit them. It's always refreshing to visit a National Park (thank you Teddy Roosevelt and Gordon Pinschot [The Big Burn]!), or to take a walk in the woods and just float on the beautiful blend of smells in the air. Maybe tour a vineyard with a guide that can explain the terroir while you sip their latest translation (they say it tastes better while you smell the plants and soil where the fruit grows). OR, you can visit a Conservatory.
Be careful with the word, as there are two definitions:
1. a college for the study of classical music or other arts.
2. a room with a glass roof and walls, attached to a house at one side and used as a greenhouse or a sun parlor.
I'm referring to the second one, although we should also recognize the merits of the first. I'm talking about a beautiful glass architecture designed to harness light and heat and air to invigorate plants and offer a pleasant, educational stroll for plant enthusiasts. If you haven't walked through a conservatory please put it on your to-do list this summer, and perhaps you'll find it a valuable field trip for your students, too.
Talk about Mindfulness! Vibrant colors, life-bursting atmosphere and an intoxicating blend of hormones and pheromones incoprorate to deliver a living master painting of vivacity and harmony. You can't possibly carry a bad mood from entry to exit and you'll probably leave with a new list of inspirations. And it's usually free or pretty close to it.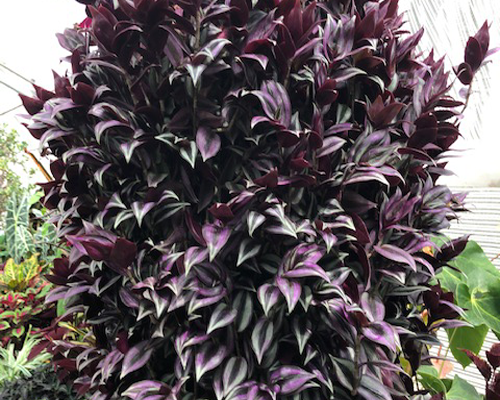 A 5' tall wandering Jew and indication of the green thumbs on staff.
1.1 miles from my doorstep is 90-acre, 118 year old Manito Park (http://www.manitopark.org/). It has a duck pond (good for ice skating in the winter), a rose garden, a perennial garden, a Japanese garden, an English garden, the Gaiser Conservatory, and it's where my Daddy taught me to run wide receiver routes when I was six. The park is special to me, and 150,000 or so visitors annually. Gaiser Conservatory is comparably small. It won't make many lists, including "top 20 things to do in Spokane according to Yelp", which is good because peace is part of the allure. It's just a really wonderfully curated selection of plants organized into symbiotic garden groups in a glass-topped building. The succulents are shiny, the ferns are huge, the cacti are disquieting, the tropicals smell tropical. My daughter is happy most of the time anyway, but she was especially relaxed for the remainder of afternoon after our walk through Gaiser.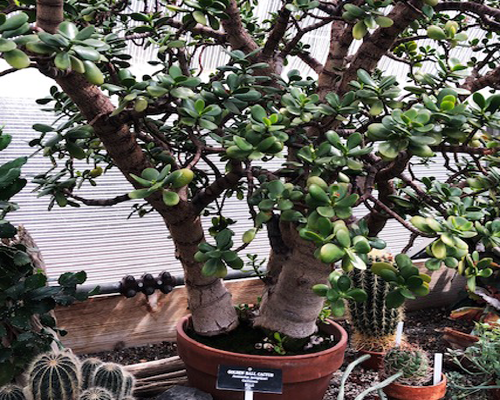 A rainbow bush, about four times the size of one you would bring up at home.
Not all cities have a conservatory, surprisingly. Maybe it's to do with the old fashion of the concept, or maybe it's tied to the general values, or lack of them. If no one is interested, they won't visit, and the city will no longer support that public space. Many cities cultivate botanical gardens, which makes sense. No build nor upkeep of the structure and why shouldn't a garden be outdoors? Both are wonderful, but there is something about the air in the conservatory that makes the difference for me.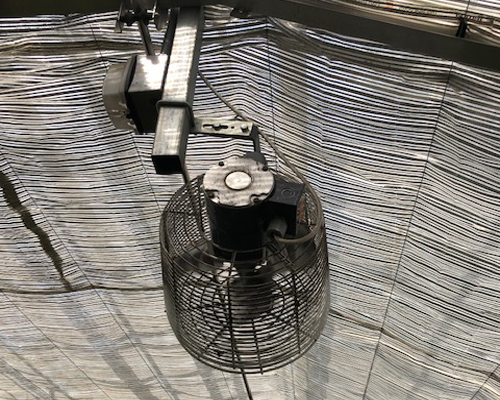 These fans are placed to generate perfect airflow throughout the building for crosspollenation and fresh air, and also blend all the smells together.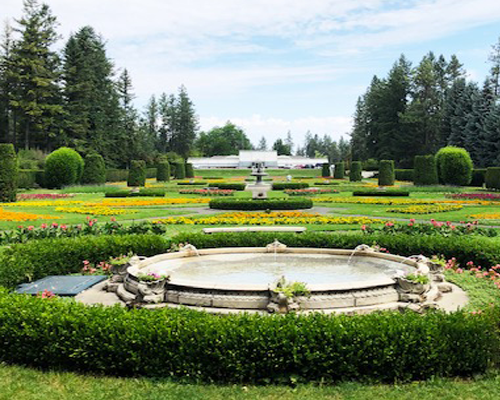 As a bonus ,the English garden next to the conservatory is designed and planted every year with about 30,000 annuals. The whole park staff gets together to do this around Mother's Day. It looks great from the ground and the sky!
I developed affinities for conservatories one random afternoon as I was visiting friends in Pittsburgh. Having the day to myself I thought better of an art or history museum and chose Phipps Conservatory & Botanical Gardens. What luck! I spent five hours there (it's pretty huge) visiting every room twice and some three times. As one of the bigger operations in the country it is well-endowed with financial support and talented staff who spend their work lives procuring healthy plants but also toying around with the presentation of those plants.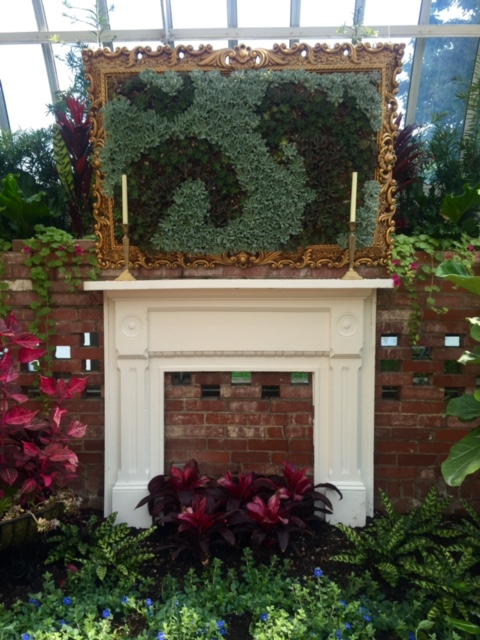 Nicely repurposed living room.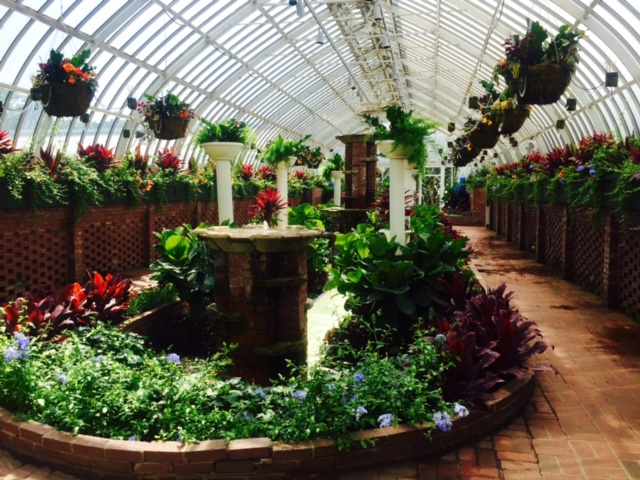 I sat in this room and read my book for almost ninety minutes. It was too pleasant to leave.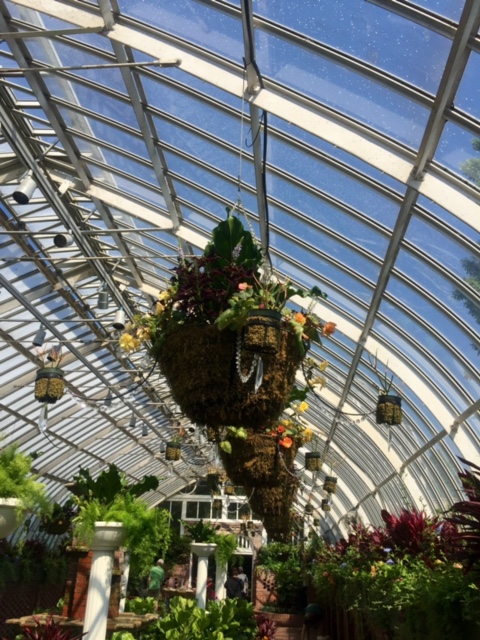 I suspect one of the big draws to conservatories are the glass roofs.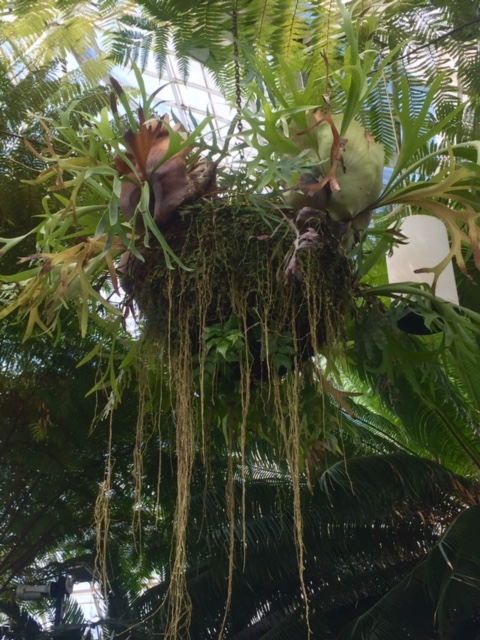 A mighty Staghorn, again probably five times bigger than a weekend gardener might expect.
If any of you want to put your students on the trail of conservatory wonder, many offer virtual tours online, such as Phipps:
https://www.phipps.conservatory.org/visit-and-explore/explore/online-tour/#
If you should happen to visit Phipps in Pittsburgh, stop at the Nationality Classrooms at the Cathedral of Learning at University of Pittsburgh. What a unique place!
https://www.tour.pitt.edu/tour/cathedral-learning
Here's a list of some of the greats to visit:
Longwood Gardens, Chester County PA
Garfield Park Conservatory, Chicago IL
The United States Botanic Garden, Washington D.C.
Frederik Meier Garden and Sculpture Park, Grand Rapids MI
The New York Botanical Garden, New York NY
Lewis Ginter Botanical Garden, Richmond VA
Dorothy Chapman Fuqua Conservatory, Atlanta GA
Crystal Bridge Tropical Conservatory, Oklahoma City OK
Phipps Conservatory, Pittsburgh PA
This is far from my typically organized article - it's a bit of a ramble really. But I thought the meandering style would be suitable to the idea of wandering around an indoor garden and enjoying the sensations. I hope you try it, or take your class, or your dog. It can seriously charge the battery and remind you that daily noise isn't the only noise. Have a great summer!
---
Here are a few classes related to this topic:

Working with Challenging Parents: How to Connect and Create a Team Approach
---
Ike Martinson
Ike is addicted to life in the Pacific Northwest. He enjoys the mountains, the lakes, the food, the people and all the seasons. He is an amateur chef, a commercial pilot and a terrible painter.
---
Share your thoughts