Poetry Made Easy: Tools to Channel Your Inner Poet
Jill Rockwell
Feb 03 2021
When I was in graduate school, I was required to write a poem for a course focused on children's literacy. I dreaded this task because I did not think I was much of a poet. My professor encouraged me to look for inspiration from my favorite children's authors. I love Cynthia Rylant's work and was encouraged by the poetic language in her book In November.  I decided to write my poem incorporating all the months of the year to use as a calendar teaching tool for my elementary students.

"In February"
Written by Jill Rockwell (circa 2008)
In February, the pine trees are as green as the shamrocks of March.
The snow flurries are as frequent as the rain showers of April;
and the fresh snow is as white as the lilies of May.
In February, the Valentines are sweet, like strawberries in June;
and the delicious hot cocoa is as warming as the July sun.
The sidewalks are slippery, like stones soaking in an August stream.
In February, the snow piles are as high as the stacks of homework in September;
and the air is as crisp as an apple picked in October.
The snowmen are big and round like the harvest moon of November.
In February, the birds and squirrels are the hustle and bustle of Christmas shoppers in December.
And in February, the sunshine is as momentary as the New Year's resolutions made in January.

A foundation of literacy development is the interconnection between reading and writing. Like my professor, I often encouraged my own students to seek inspiration from their favorite authors when presented with writing tasks.

Introducing students to a variety of genres provides them with opportunities to learn more about text structures and language that can be generalized to their own writing. Provided below are more strategies and tools to help encourage and guide students with poetry writing.
Diamante Poems
A diamante poem is written in the shape of a diamond - using a specific format of nouns, adjectives, and gerunds (verbs that function as nouns, ending in -ing). A diamante poem can focus on one central topic or two opposing topics, such as winter and summer. Readwritethink.org provides this interactive tool for students to create diamante poems (Adobe Flash Player required).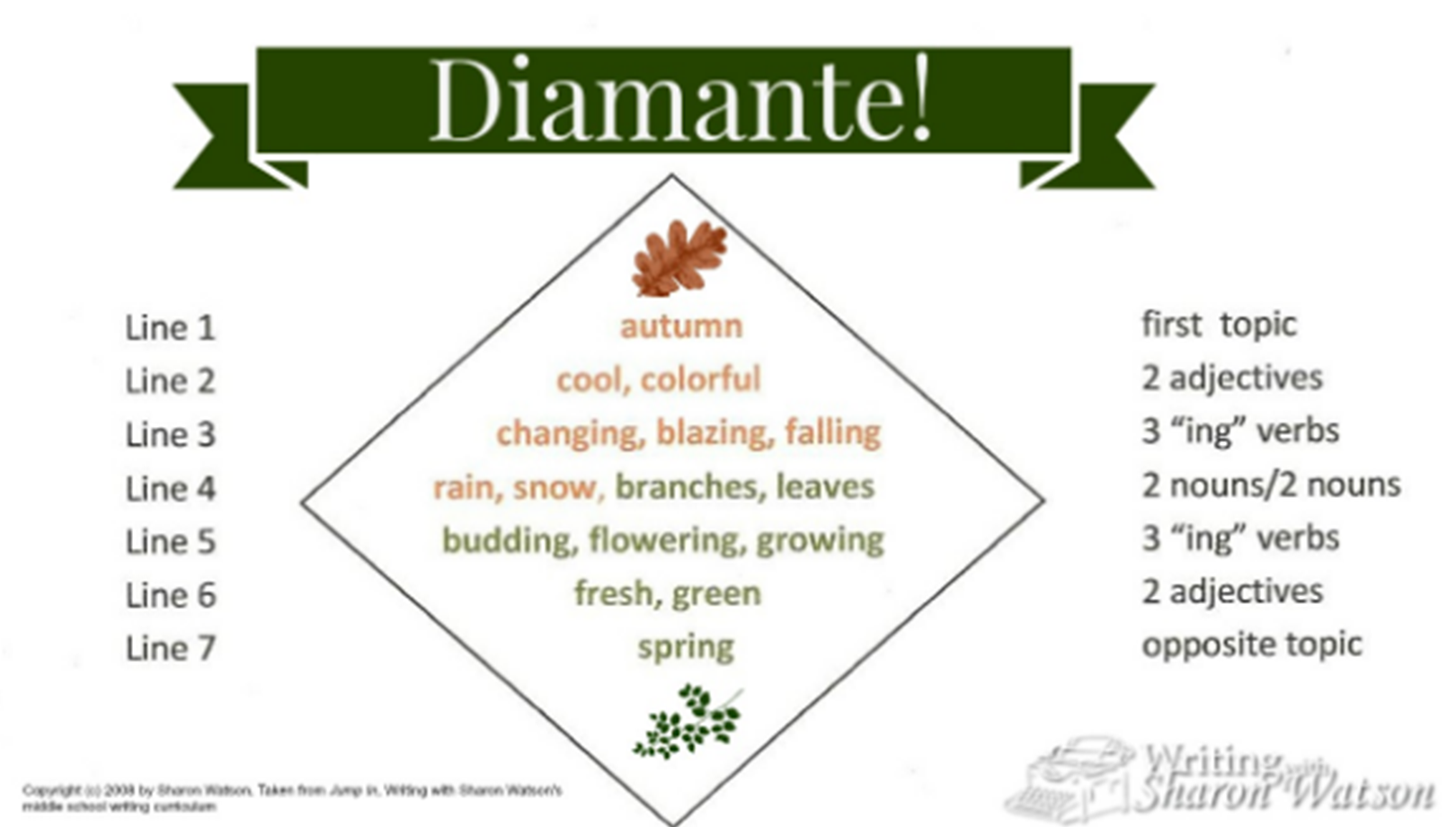 Valentine's Day Figurative Language


"Valentine's Day is the poet's holiday." -Ted Kooser

I love the creative Valentine's Day ideas provided by Readwritethink. Check out the lesson plans and activities focused on figurative language that span across grades 3-12. Original poetry can make an ideal gift for Valentine's Day.
Autobiographical Poems
An autobiographical poem provides an opportunity for self-reflection as it is written about oneself. Writers use a template to fill in the blanks with personal information such as emotions, interests, and important people/places/things in their lives. This autobiographical portrait poem generator, provided by K-5 Technology lab, will guide you and your students with writing your own thoughtful and reflective poetry.
Autobiographical Poem Example Provided by https://www.imater.org/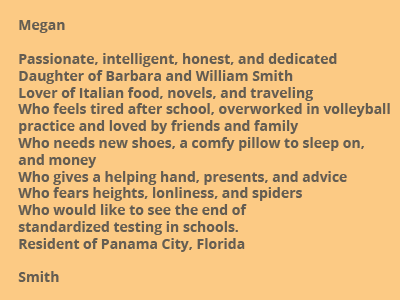 Poetry Machine & Multi-Sensory Color Poems

Finally, from Acrostic poems to Pensee poems and more, Poetry Machine has every template you and your students need to guide you with creating original poetry. My students used to love writing multi-sensory color poems and used a template similar to the one provided here. 
Color Poem Example provided by Poetry Machine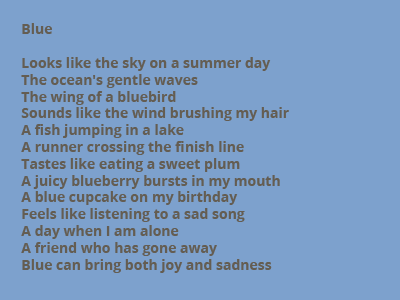 Happy poetry writing, educators! Please share your own tips and tools to channel your students' inner poets.
---
Jill Rockwell
Jill has over 13 years of experience as a licensed teacher in the areas of Special Education, Reading Education, and Health Education. She embraces diversity and has worked with students in grades K-12 in Wisconsin, Minnesota, and California. Jill completed her Master of Science degree at the University of Wisconsin-River Falls while teaching full time. She fully understands the soaring demands of today's teachers. Her courses are designed to maximize the time of all educators by providing engaging, meaningful, and applicable activities which can be used to enhance teaching practices. She focuses on research-based best practices and technology integration throughout her own instructional practices. Together with her husband and two young boys, Jill enjoys traveling, biking and the changing seasons of the great outdoors in Wisconsin. 
---
Share your thoughts