Read, Watch, Listen
Jill Rockwell
Jul 28 2023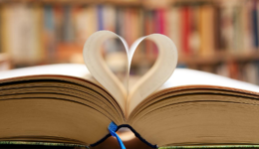 Image Credit: https://bookish.netgalley.com/bookish-lifestyle/08/2022/16-ways-to-celebrate-national-book-lovers-day/

National Book Lovers Day is Wednesday, August 9 – a day to celebrate all things books and reading. Bookworms can participate in this special day in a number of ways.
For example:
Download a newly released title by your favorite author.
Curl up and re-read a worn, yet well-loved classic novel.
Visit your local library.
Recommend a book to a friend.
Join a book club (or start your own).
Start writing your own book!
 
Here at The Connecting Link, we're celebrating National Book Lovers Day by sharing not only what we're reading, but also what we're watching and listening to. "Read, Watch, Listen" is a quick and fun activity that can be used in the classroom to foster connections with and among students throughout the school year.
Simply ask students to think about what they are currently reading, watching, or listening to – and share one of those things of their choice with the class. Reading might include the title of a book or a magazine, the name of a blogger, or an interesting news source.  Watching might include a Netflix series, a movie, a documentary, a primetime TV show, or a game show. Listening could include the title of an audio book, a podcast episode, or even a favorite radio station or type of music.
For more specific examples, below are the "Read, Watch, or Listen" responses from several of us instructors and other staff members at The Connecting Link, including my own.
Jill Rockwell, Instructor and Course Writer
Read: The Age-Proof Brain by Marc Milstein, PhD.
Watch: Wheel of Fortune - I have it on (at least in the background) most evenings.
Listen: I love to listen to podcasts while I'm walking my dog. I am currently alternating between Mel Robbins and The Lazy Genius.
Paul Wright, Instructor and Course Writer
Paul is looking at different ways to engage students in talk about the math process.
Read:
John Adams, Instructor
Read: No Excuses by Kyle Maynard

Dr. Eva Frey, Instructor
Read: Emergent Strategy by Adrienne Maree Brown
Watch: Ted Lasso (Apple TV)

Mike McGowan, Instructor
Mike has been busy reading several relevant books in preparation for becoming a superintendent.
Read:

Steve Novak, Instructor and Course Writer
Steve has been enjoying audiobooks while walking this summer.
Listen:

Melissa Ramirez, Registrar
Read: Firefly Lane by Kristin Hannah
Finally, if you're looking for a one-stop-shop of book lists for preschool through high school that includes a variety of engaging topics, this is a fantastic resource to bookmark for the upcoming school year.

Happy Book Lovers Day, educators! How will you celebrate?
---
Jill Rockwell
Jill has over 13 years of experience as a licensed teacher in the areas of Special Education, Reading Education, and Health Education. She embraces diversity and has worked with students in grades K-12 in Wisconsin, Minnesota, and California. Jill completed her Master of Science degree at the University of Wisconsin-River Falls while teaching full time. She fully understands the soaring demands of today's teachers. Her courses are designed to maximize the time of all educators by providing engaging, meaningful, and applicable activities which can be used to enhance teaching practices. She focuses on research-based best practices and technology integration throughout her own instructional practices. Together with her husband and two young boys, Jill enjoys traveling, biking and the changing seasons of the great outdoors in Wisconsin. 
---
Share your thoughts