3 Engaging Hands-on Activities and Experiments to Extend Learning at Home or in the Classroom (Teacher/Parent Approved!)
Jill Rockwell
Jan 03 2021
Categories
Happy New Year! Chances are you are on the lookout for indoor-friendly ideas for your students/children. Included in this post are three fun, tested and approved activities and experiments to extend learning at home or in the classroom this winter.
1. Rube Goldberg Machines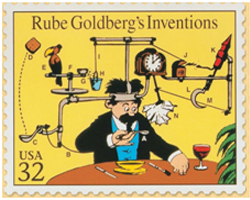 Image Credit: https://www.smithsonianmag.com/history/story-behind-rube-goldbergs-complicated-contraptions-180968928/
The late Rube Goldberg is famous for his complex, wacky inventions designed to accomplish simple tasks through a series of chain reactions – such as the "Self-Operating Napkin" shown above.

Using objects found in our temporary in-home classroom, my two boys (ages 3 and 5) and I designed our own simple Rube Goldberg machine to get a toy bus to move. After a bit of experimenting, we nailed it! 
What I loved the most was the curiosity that was sparked by our basic engineered machine. We continued experimenting by using different sizes of boxes (wedges), books (incline planes), balls, and toy automobiles (wheel and axel). I heard my boys say things like, "I have an idea…maybe we could try ______!"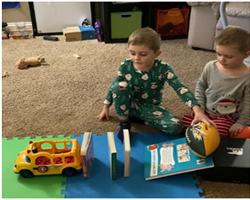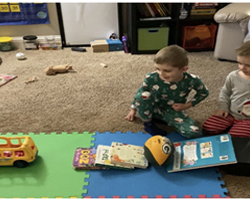 Abe and Owen testing their Rube Goldberg machine
Inspire student-engineers of all ages with this mesmerizing video featuring an elaborate machine that lights up a Christmas tree – Rube Goldberg style.
https://www.youtube.com/watch?v=RBOqfLVCDv8&feature=youtu.be

And the boy in this video figured out a clever way to feed his dog with a Rube Goldberg machine.
https://www.youtube.com/watch?v=OHwDf8njVfo&feature=youtu.be
2. Color Laboratory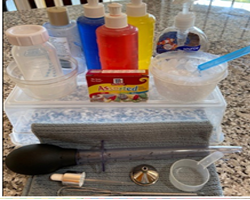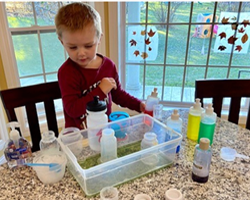 Mixing, shaking, scooping, pouring, whisking…my little scientists love making discoveries in their color laboratories. This activity has evolved from simply mixing water and food coloring in a few small containers to involving cheap squeeze bottles (purchased from Amazon), a variety of plastic containers (including old baby bottles), ice chips, liquid soap, and tools including – a turkey baster, scoops, an eye dropper, a funnel, a whisk, and lots of towels to mop up the inevitable spills.
This activity is meant to be open ended as kids are introduced to basic color theory while experimenting with the different textures of the ice and soapy bubbles. The tools allow kids to strengthen their fine motor skills, problem-solve, increase their confidence, develop a growth mindset, and make meaningful connections with the worlds around them.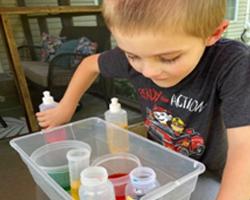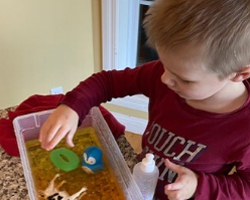 Left: Abe busy mixing colors; Right: Owen's laboratory included a sink vs float experiment
3. Homemade Play Dough
From strengthening hand muscles and enhancing prewriting skills to encouraging creativity and imagination, play dough has many benefits - especially for our youngest learners. Play dough also seems to have a calming effect on my own children as they squish, flatten, mold into different shapes, and experiment with different tools - such as cookie cutters and rolling pins.

Most play dough recipes include simple ingredients that can be found in the pantry. Below is one of our favorites.
Directions: Mix all dry ingredients. Combine with wet ingredients. Heat on medium, stirring frequently until it forms into a ball. Let cool and knead.
Kool-Aid Play Dough
Ingredients:
1 Cup Flour
1 Cup Salt
2 tsp Cream of Tartar
1 packet of Kool-Aid
1 Cup Water
1 Tbsp Vegetable Oil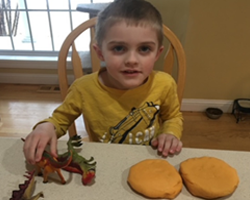 Homemade play dough fun: Dinosaur footprints, stacking and making patterns with Easter eggs
Happy experimenting, educators, parents, and students! Please share your own tested and approved ideas to extend learning at home and in the classroom.
---
Here are a few classes related to this topic:

Working with Challenging Parents: How to Connect and Create a Team Approach
---
Jill Rockwell
Jill has over 13 years of experience as a licensed teacher in the areas of Special Education, Reading Education, and Health Education. She embraces diversity and has worked with students in grades K-12 in Wisconsin, Minnesota, and California. Jill completed her Master of Science degree at the University of Wisconsin-River Falls while teaching full time. She fully understands the soaring demands of today's teachers. Her courses are designed to maximize the time of all educators by providing engaging, meaningful, and applicable activities which can be used to enhance teaching practices. She focuses on research-based best practices and technology integration throughout her own instructional practices. Together with her husband and two young boys, Jill enjoys traveling, biking and the changing seasons of the great outdoors in Wisconsin. 
---
Share your thoughts