Hyper-active, never stops talking, has a ton of energy, inability to sit still, talks excessively, nudging other kids...research indicates that ADHD, while disruptive, is genetically inherited rather than learned. Your goals with hyper-active students are two-fold:
1. You want to maintain order and focus in your classroom for all students 2. You want to help those hyper-active students learn to focus themselves
Listed below are 15 simple methods for accommodating students with ADHD so you can easily manage your classroom and hold focus on learning.
Print out the PDF and keep it on hand.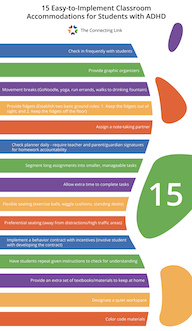 15 Easy-to-Implement Classroom Accommodations for Students with ADHD