June is National Safety Month: 5 Resources for a Safe Summer
Jill Rockwell
May 23 2023

Image Credit: https://www.safekids.org/blog/top-5-summer-safety-tips
National Safety Month gives us the opportunity to reflect on how to keep our environment safe and free from danger. Before the final bell rings, consider addressing some important safety topics to help set your students up for a safe and enjoyable summer break. We've provided five helpful resources below to get you started.

From bug safety and playgrounds to bicycling and boating, this resource by the National Safety Council (NSC) provides a menu of summer safety tips for students of all ages and interests.
Be Sun Smart! The United States Environmental Protection Agency (EPA) designed this free lesson that teaches students ages 9-13 years about why plants, animals, and humans need the sun. The lesson also covers effective ways we can protect ourselves from harmful ultraviolet rays. Lesson materials include instructor materials, student handouts, posters, and coloring pages.
Water Safety with Colin & Friends is an evidence-based kids water safety program aimed to "encourage a safer culture around water for kids and their families to prevent downing." This program includes several interactive and engaging lessons. Some examples include the importance of learning how to swim, wearing a life jacket, and following open water safety rules.
From routine yard work to celebrating the 4th of July with fireworks, this article includes five safety tips for older students and adults to consider for a safe and enjoyable summer.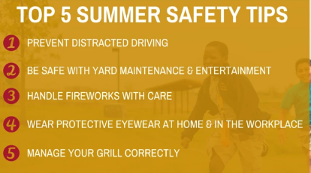 Image Credit: https://www.mhskids.org/blog/national-safety-month-5-summer-safety-tips-students-families/
Finally, from swimming and biking safety to first aid and staying hydrated, Kids Health in the Classroom provides a number of engaging, ready-to-use lesson plans focused on summer safety. Lesson plans include engaging handouts, worksheets, and quizzes designed for students in kindergarten-2nd grades, 3rd-5th grades, 6th-8th grades, and high school.
*Bonus Activity*
Get the conversation about summer safety started with this read aloud – And Then Comes Summer by Tom Brenner.
Have a safe and enjoyable summer, educators!
---
Jill Rockwell
Jill has over 13 years of experience as a licensed teacher in the areas of Special Education, Reading Education, and Health Education. She embraces diversity and has worked with students in grades K-12 in Wisconsin, Minnesota, and California. Jill completed her Master of Science degree at the University of Wisconsin-River Falls while teaching full time. She fully understands the soaring demands of today's teachers. Her courses are designed to maximize the time of all educators by providing engaging, meaningful, and applicable activities which can be used to enhance teaching practices. She focuses on research-based best practices and technology integration throughout her own instructional practices. Together with her husband and two young boys, Jill enjoys traveling, biking and the changing seasons of the great outdoors in Wisconsin. 
---
Share your thoughts