National Bird Feeding Month: 7 Activities for the Classroom
Jill Rockwell
Jan 30 2023
Categories
There is some fascinating research published in Scientific Reports on the mental health benefits of seeing and/or hearing birds. Improved moods, decreased symptoms associated with depression, stress relief, and increased focus for up to eight hours after bird encounters were reported by people participating in this study. As noted in in the article linked above, "The beneficial impact of everyday experience of birds on mental wellbeing was evident in both people with depression and people without a mental health condition."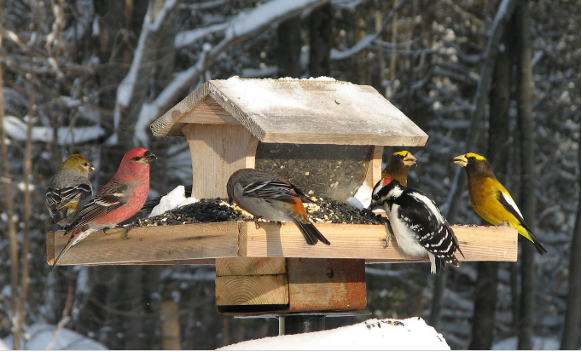 Image Credit: https://news.wisc.edu/climate-change-alters-cast-of-winter-birds/
Stuck inside without a window? As it turns out, even listening to a recorded version of the sounds of birds warbling can provide the same benefits. Coincidently, in last month's blog post, I included a link to this video of the sounds of birds singing paired with relaxing music.
February is National Bird-Feeding Month. My family and I live in Wisconsin where food for wildlife is scarce in the wintertime. The bird feeders that my husband and kids keep stocked attract cardinals, woodpeckers, blue jays, finches, sparrows, chickadees, and many more- including turkeys (they willingly help clean up the bird feed that falls to the ground). The feeders hang right outside our kitchen window, giving us a captivating view of their beauty and behaviors.
My oldest son (age 7) has taken an interest in birds this winter and recently asked for his own birding book. He takes great satisfaction in identifying and checking off the bird species that he spots, and he often wants to learn more about each type of bird that comes to our feeders. I appreciate how his hobby encourages him to be mindful and observant while giving him a meaningful purpose to further develop and strengthen his reading skills. This has also got me thinking about ways birding can be used to engage and benefit students in the classroom. So, in honor of National Bird-Feeding Month, here are several ways you and your students can celebrate our feathered friends. 
Head outside and go on a bird scavenger hunt. Compile the names and pictures of the birds most commonly found in your region this time of the year and print a copy for each student. Or save yourself some time by keeping the scavenger hunt more general, like the example below. (Click on the image for a printable version.)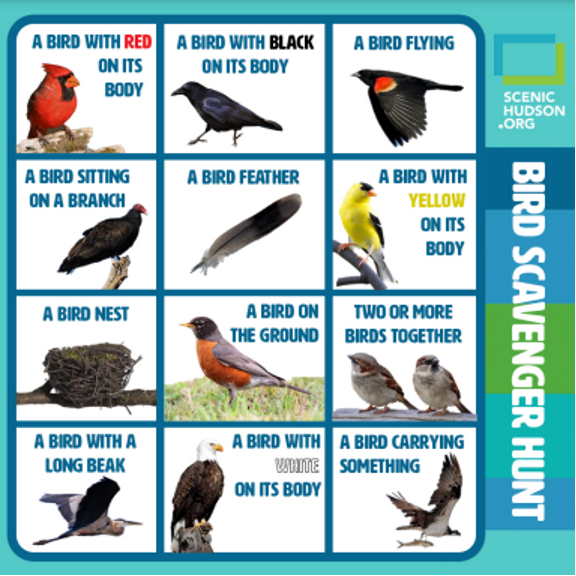 Finally, create a calming classroom ambiance while reaping the mental health benefits of birding (as discussed at the beginning of this article) by simply playing a recording of the lovely sounds of birds in the background as you and your students work. There are thousands of free recordings online, like this cheerful Nightingale video filmed in the Netherlands. I also love this "Morning Bird Song" and have it playing on my computer now.
Happy National Bird-Feeding month, educators! Please share you own ideas for bringing birding into the classroom.
 
Sources
https://metro.co.uk/2022/07/09/why-you-need-to-spend-10-minutes-a-day-listening-to-birdsong-16968499/
https://www.nature.com/articles/s41598-022-20207-6
---
Here are a few classes related to this topic:
---
Jill Rockwell
Jill has over 13 years of experience as a licensed teacher in the areas of Special Education, Reading Education, and Health Education. She embraces diversity and has worked with students in grades K-12 in Wisconsin, Minnesota, and California. Jill completed her Master of Science degree at the University of Wisconsin-River Falls while teaching full time. She fully understands the soaring demands of today's teachers. Her courses are designed to maximize the time of all educators by providing engaging, meaningful, and applicable activities which can be used to enhance teaching practices. She focuses on research-based best practices and technology integration throughout her own instructional practices. Together with her husband and two young boys, Jill enjoys traveling, biking and the changing seasons of the great outdoors in Wisconsin. 
---
Share your thoughts