National Letter-Writing Day – December 7, 2022
Jill Rockwell
Dec 02 2022

Dear Amazing TCL Educators,
Season's greetings! According to the results of a recent study, 89% of people say receiving holiday cards brings them joy. I consider myself part of that statistic – and when a letter is included, I feel overjoyed.
I can count on at least two friends to send me Christmas letters every year (thank you, Katie and Barb). When their letters arrive in the mail, I save them until I have a moment to get cozy by my Christmas tree with a cup of warm tea and a blanket to enjoy every word. (Sometimes Katie's letters are quite long, but always entertaining.)
Call me old-fashioned, but receiving letters (especially when they're handwritten-bonus points for cursive) breaks through the noise of our modern world and truly touches my heart. Perhaps my nostalgia for letter-writing stems from my beloved late grandmother. She and I used to exchange letters in the mail regularly – hers written in the most beautiful cursive.
During my elementary school years, I remember the joy that came with the letters in my mailbox from my various pen pals. And I don't remember what I included in my letters to Santa Claus, but I definitely remember the excitement I felt writing those letters.
December 7 is National Letter-Writing Day, just in time for the holidays. I have been inconsistent over the years, but I am feeling inspired to hopefully spread some extra joy by writing one this year – perhaps from the perspective of my new puppy, Rocky. (This link contains 10 creative and fun Christmas letter ideas.)
Maybe you don't have time to write a letter for the December holidays – after all, it's an extra busy time of the year. How about a New Year's greeting or a sweet Valentine? My friend, Christine, sent me a Valentine in the mail a few years ago (in lieu of a Christmas card) – what a special surprise in February.
How about getting your students or your own kids involved with National Letter-Writing Day by having them write notes to staff members or neighbors? (What an authentic way to develop writing skills while spreading joy.) Last week my 5-year-old wrote a thank you note to our neighbor who snow-plowed our driveway when I had influenza and my husband was out of town.
 Speaking of thank you's…in closing, on behalf of The Connecting Link - thank you, amazing educators, from the bottom of our hearts for your commitment to students and the endless tasks you accomplish each and every day. You truly make a difference in the world, and we are so grateful. Sending you lots of joy this holiday season and beyond.
Sincerely yours,
Jill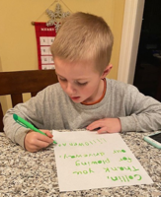 My son Owen, 5 years old
Sources:
 https://www.prnewswire.com/news-releases/nearly-90-of-americans-say-receiving-holiday-cards-brings-them-joy-301689294.html
https://www.holidayscalendar.com/event/letter-writing-day/
---
Jill Rockwell
Jill has over 13 years of experience as a licensed teacher in the areas of Special Education, Reading Education, and Health Education. She embraces diversity and has worked with students in grades K-12 in Wisconsin, Minnesota, and California. Jill completed her Master of Science degree at the University of Wisconsin-River Falls while teaching full time. She fully understands the soaring demands of today's teachers. Her courses are designed to maximize the time of all educators by providing engaging, meaningful, and applicable activities which can be used to enhance teaching practices. She focuses on research-based best practices and technology integration throughout her own instructional practices. Together with her husband and two young boys, Jill enjoys traveling, biking and the changing seasons of the great outdoors in Wisconsin. 
---
Share your thoughts