The beautiful and fulfilling task of teaching project-based curriculum
Ike Martinson
Dec 09 2019
Categories
Part two of a three part series on The Community School, a PBL High School
Part 1: The Den & the Project
Part 3: Finding your identity through PBL
---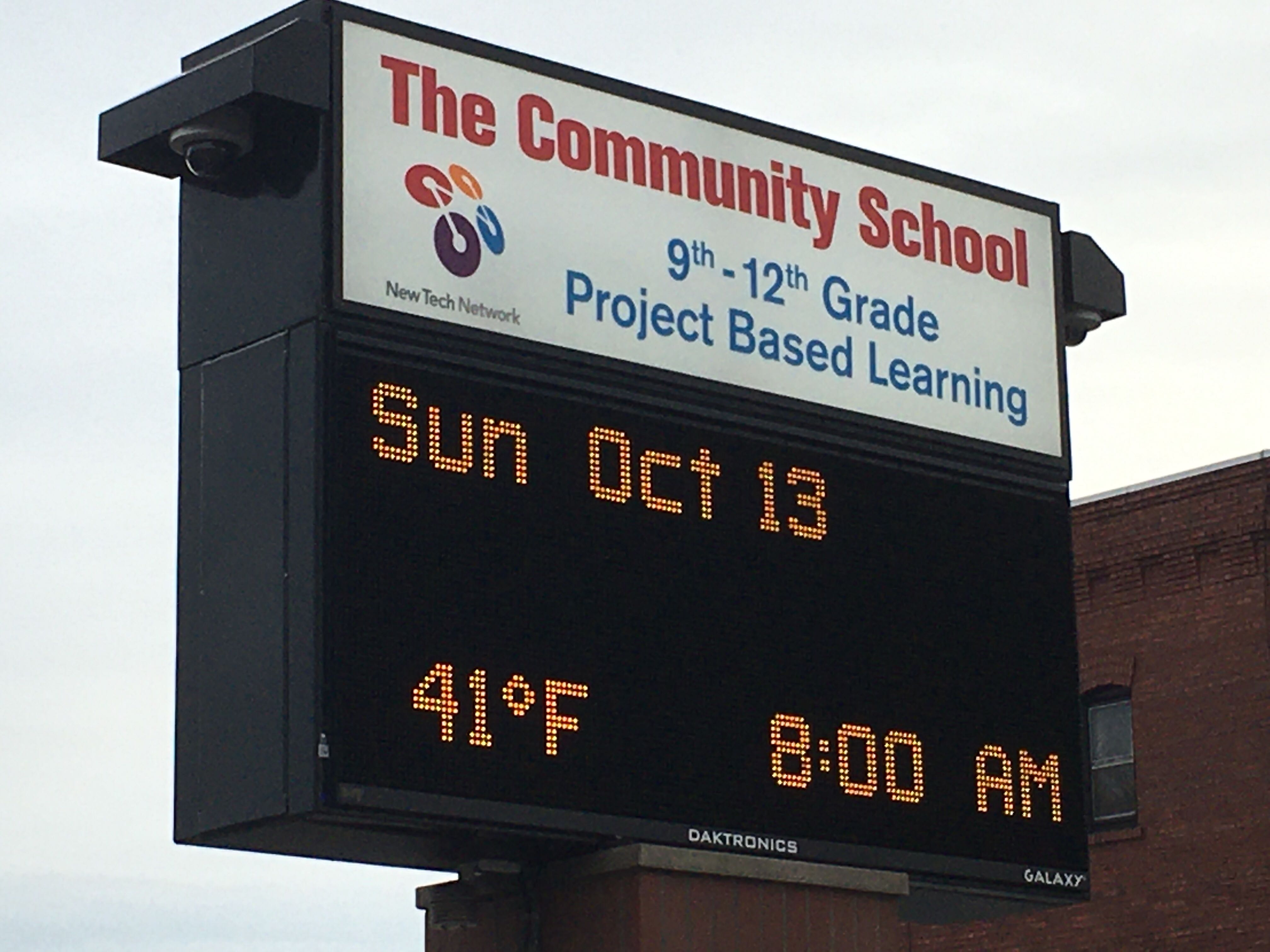 As I understand it Ryan Campanella was a pretty popular science teacher and soccer coach for most of his first decade as a public high school teacher. I didn't ask why he sought a fresh approach to teaching, but when I asked how he's feeling about having moved to project-based teaching at The Community School he said "It's amazing. It's hard every day and it's difficult to be concise in explaining it, but I love the freedom of having authority over the curriculum. This is what I wanted forever and I'm thrilled that there's actually a place where I can teach this way." While everyone prescribes in theory to the adage "do what you love and love what you do" it can't be too common. When analyzing such a positive scenario I can't help but be energized. I think teachers like Ryan are the advocates for which the PBL concept is intended.

When principal Cindy McMahon initiated the effort to create a project-based high school in her district she sought to embrace a better curriculum and rubric for the students that were not reaching their potential in the traditional 'sit & get'. She once told me "I looked around and saw that our Committee of 10 model was failing so many kids."

In just two years of discussion with educators I've heard the adjective heart-breaking more than I would've expected. Despite my limited exposure I'm already aware of significant and exciting changes to an arguably antiquated curriculum design, but it's sad to hear frustration as teachers are still handcuffed despite their desire to help many students. I regularly hear burnout in connection to this same description, equally sad.

As often happens in life Cindy recognized a problem but stumbled upon the solution. The district sent a group to visit a PBL school and she was immediately impacted. "I met students who were truly driving their learning that linked them to their interests and future goals. What impressed me was the passion that they had about learning. It mattered. It was personally relevant. They were empowered by knowledge and a path forward to their career goals. I came back home with a radical shift of mindset."
Cindy was appropriately focused on the students' needs but understood that she would need equivalently motivated teachers and families. The school has found success and improvement year over year since 2011 because of the collaborative efforts and passion of so many involved.

Sara Reijonen worked together with Cindy and their colleague Bobbi on the original Design Team. She told me "there were many late nights, meetings, book studies, and school visits before we landed on the New Tech Network and what we are doing now, which is unique even among project-based and other choice schools." I wanted to hear her perspective as a more tenured party to PBL so I asked "how long did it take for you to feel like you had a firm hold on the method?" First she laughed, and then responded "the irony in the work we are doing is that it is always changing, not for the sake of change but for the benefit of our students. When individual student needs are at the heart of the work, the work must change for the heart of the student." Well besides being pleasantly poetic, that last statement re-defined for me the ambition of student-centered learning. I mistakenly thought of it as classroom-centered, as in letting the classroom be the focus rather than the teacher out front. But what I am finally recognizing is the specialized development of curriculum for each individual student; let the student personalize their own learning to reach their potential.
Cindy suggests that "traditional schooling is designed around efficiency through batching students through a six-period day where learning is driven by the teachers' assignments and, usually, the traditional assessments of tests and quizzes." Not one teacher or administrator at The Community School has indicated that practices are wrong elsewhere. They simply make an inspired and collaborative effort to offer the best possible student-centered learning environment at their own school and are happy to share their successes and defeats with anyone expressing interest.
Personally I was sold on the whole thing even before I got to have these discussions. So I really wanted to ask how they variously see it evolving and their hopes for its influence on education at-large. "Smaller is better" Sara said. "Knowing your students and families deeply matters. I want to see more options. Not little replicas of us but intentionally designed programs for the students who inhabit the walls of whatever building it may be in whatever part of town it may be. Students and families need and deserve choice. Educators deserve choice in what they teach and how they teach. They too need to have their passion reignited."
Cindy answered as optimistically "there are obvious challenges that I have observed first hand.  We need autonomy to do what we do. That said, groups of teachers can make PBL powerful and engaging anywhere.  I hope that will shift the traditional model over time so that all students have the experiences that will better prepare them for college, career, and civic readiness. Isn't that our goal?"
I'm so impressed with the commitment required to go after this concept, to "build the plane in flight" as Sara put it. But it's the perpetual evolution that most excites me. Ryan sort of represents that. He's in his second year and his impressions of the now-established PBL structure at TCS speak to the potential of its foundation. He discussed his personal growth in new fields, mentioning "I had to adapt to teaching wellnesses in the afternoon" and "it challenged my traditional sense of teaching, particularly in allowing students to find a failure point and then mediating." He told me that he works a lot more but finds himself driving away from burnout because all the effort pays off directly. Seeing and hearing the students' reflections of their own work acts as an indicator that the concepts are prevailing.
He said his first year was a blur, particularly as they were building a curricular foundation from scratch that they can now adjust moving forward. "Full-scale collaboration with different subjects and finding connections between curriculum" required maximum cognitive capacity. I got the sense that Ryan experienced some uncertainty through that first year about his effectiveness in PBL. But then he told me the thing that I just can't forget: "There were some students that came in who could barely express themselves in private and on the last day they publicly and confidently presented their cumulative projects for 15 minutes!" He was still awestruck seven months later as we talked.
Cindy, Sara and Ryan are all intoxicated by their passion project. The other six teachers exhibit the same dedication. The students appear happy and, each of them, comfortable in their skin while at school. Their parents support the decision to participate in student-centered learning and to focus on agency as the measurement of success. It's a huge group project that's well-represented by each representative.
I love group projects myself. It's so amazing to see what collaboration can produce. I'll have to keep my eyes on them all as they strive to improve each year.
---
Here are a few classes related to this topic:
---
Ike Martinson
Ike is addicted to life in the Pacific Northwest. He enjoys the mountains, the lakes, the food, the people and all the seasons. He is an amateur chef, a commercial pilot and a terrible painter.
---
Share your thoughts