Classroom Calendar Connections: September 2020
Jill Rockwell
Aug 30 2020
Categories
Resource Roundup for the Virtual Classroom
Normally I would be writing about activities and resources to incorporate into your teaching practices about Labor Day, 9/11, the first day of fall, and/or other significant events associated with September (as I did l in this blog post from September 2019). However, it is 2020, and with so many educators and students getting prepared for online teaching and learning, I decided to unofficially deem September as National Virtual Classroom Month!

In honor of this newborn holiday, I gathered several valuable resources for your reference – topics include: building relationships online, supporting English learners and students with special needs, co-teaching in a virtual classroom, designing accessible online assignments, and utilizing clever technology gadgets.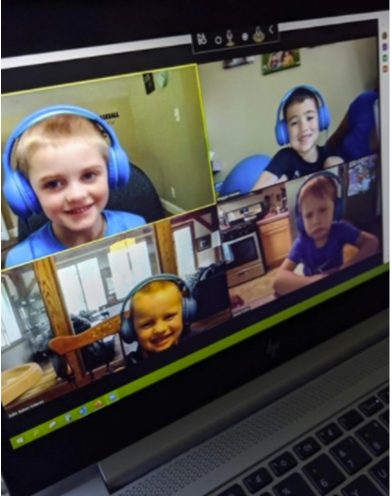 A Meeting of (the Great) Minds –
My son (top left) and his friends discovered they all have
 the exact same headphones during a recent Zoom session.
Relationships
How do we build relationships in the virtual classroom? The educator featured in this video focuses on social and emotional learning by having her students create personalized digital bulletin boards using Padlet and by encouraging her students to perform random acts of kindness to foster relationships with and among her students.
Collaborative Learning
The physical classroom provides ample opportunities for small group collaborative learning and problem-solving, but what about the virtual classroom? From pairing compatible technology tools to "distant socializing" discover 13 ideas for facilitating productive and meaningful breakout rooms using Zoom in this article.

Special Education
This Edutopia article includes the input and survey results of nearly 100 educators across 30 school districts regarding what they learned about (and how to improve) distance learning -specifically with students with IEPs. Educators offered insights on enhancing parent engagement, synchronous instructional strategies, and asynchronous strategies for students across grade levels.

Special education teachers weighed in on their favorite apps and assistive technology tools to support the needs of their students while learning from home. Check out the list of their valuable suggestions here. And, from toddlers to youth transitioning to adulthood, PACER Center offers helpful COVID-19 and distance learning resources for students with disabilities and their families.

Co-Teaching
The author of this article shares tried and true ways of effectively partnering with a co-teacher in the online environment to make learning inclusive for all students. 
Accessible Online Assignments
The focus of this article includes important considerations for designing online assignments accessible for all students based on the principles of Universal Design for Learning (UDL).
English Learners
In his 7-minute video, high school teacher, Larry Ferlazzo, shares insightful tips for virtual instruction with English learners. (I outlined his tips below for your reference but be sure to watch his video as he goes into further detail about useful strategies to implement in your own virtual classroom.
Incorporate student choice in curriculum subjects and independent activities.
Incorporate synchronous teaching - keep it short and simple.
Incorporate FUN with your students.
Offer time for students to connect with each other.
Connect with parents as much as possible.
Set up one-on-one meetings with your students – include a focus on their social/emotional health.
Try your best.
Last, but not least, my fellow TCL bloggers recently wrote these informative articles to help make virtual teaching and learning successful and engaging for you and your students. 
As you know, virtual instruction (during a global pandemic) presents challenges and opportunities. As you navigate your own virtual classroom, remember to give yourself (and your students) grace as we all continue to learn and adapt. 
Please share your own ideas and resources for taking part in National Virtual Classroom Month!
---
Jill Rockwell
Jill has over 13 years of experience as a licensed teacher in the areas of Special Education, Reading Education, and Health Education. She embraces diversity and has worked with students in grades K-12 in Wisconsin, Minnesota, and California. Jill completed her Master of Science degree at the University of Wisconsin-River Falls while teaching full time. She fully understands the soaring demands of today's teachers. Her courses are designed to maximize the time of all educators by providing engaging, meaningful, and applicable activities which can be used to enhance teaching practices. She focuses on research-based best practices and technology integration throughout her own instructional practices. Together with her husband and two young boys, Jill enjoys traveling, biking and the changing seasons of the great outdoors in Wisconsin. 
---
Share your thoughts