March is Music in Our Schools Month
Jill Rockwell
Mar 01 2023
Categories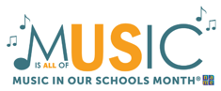 Image Credit: https://nafme.org/programs/miosm/
Did anyone watch the Schoolhouse Rock! 50th anniversary singalong on abc last month? As a child of the 80's, Schoolhouse Rock! was a highlight of my Saturday mornings. Those fun, catchy songs got stuck in my head and those old school animations touched my heart. I learned a little about everything from outer space to conjunctions (Conjunction junction, what's your function?).
You don't need to be a child of the 70's and 80's to appreciate Schoolhouse Rock!, though. March is National Music in our Schools Month – the perfect time to jazz up your next grammar lesson with "Unpack Your Adjectives" or help students understand how a bill becomes a law with "I'm Just a Bill". There are also numerous math songs to choose from including the classic, "Three is a Magic Number" (The Black Eyed Peas provided the perfect modern twist to this classic in the 50th anniversary singalong.)
Music not only provides enjoyment of learning, it's also good for our brains. According to the research-based information in this article, "45 Benefits of Music Education," children who have had music education – which includes learning a musical instrument, singing, and/or listening to music – show improvements in learning and intelligence, memory, language, social skills, brain function, and motor function.
Aside from Schoolhouse Rock!, how might you and your students enjoy the influence of music in your classroom or school? Below are seven recommendations and resources.
It's amazing what music can do for our moods. This resource includes links to popular classical music pieces and activities to teach emotions.

This resource provides helpful information for early childhood and elementary music classes – including cross curricular connections to reading, writing, and art.

Have students take a brain break while moving their bodies with one of the many musical selections from Go Noodle.

Play soft, calming music during writing and other work times. My son's second grade teacher uses an Alexa device to conveniently play music in the classroom.

Use a familiar theme song of your choice during transition times, such as the Jeopardy song, to get students moving.

This article includes 3 ways a high school teacher uses music to foster a sense of community and make learning more engaging for her students.

Finally, get families involved by providing them with ideas to enjoy the benefits of music at home. Here is an example of a calendar of activities created by a music teacher.
Happy National Music in Our Schools Month, Educators! Whether you introduce your students (or your own kids) to the magic of Schoolhouse Rock! or give your students the opportunity to show their best dance moves during a Go Noodle brain break, I hope you enjoy the value of music in schools this month and beyond!
---
Here are a few classes related to this topic:
---
Jill Rockwell
Jill has over 13 years of experience as a licensed teacher in the areas of Special Education, Reading Education, and Health Education. She embraces diversity and has worked with students in grades K-12 in Wisconsin, Minnesota, and California. Jill completed her Master of Science degree at the University of Wisconsin-River Falls while teaching full time. She fully understands the soaring demands of today's teachers. Her courses are designed to maximize the time of all educators by providing engaging, meaningful, and applicable activities which can be used to enhance teaching practices. She focuses on research-based best practices and technology integration throughout her own instructional practices. Together with her husband and two young boys, Jill enjoys traveling, biking and the changing seasons of the great outdoors in Wisconsin. 
---
Share your thoughts